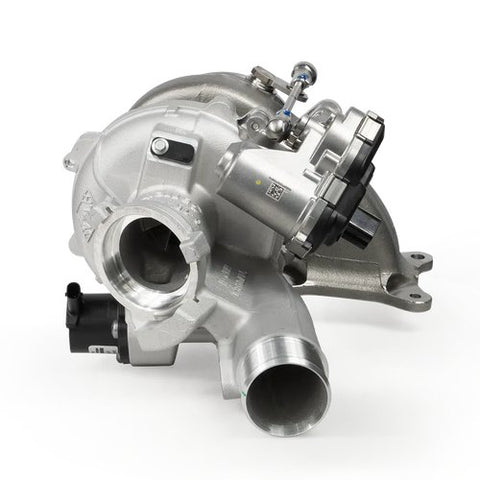 Garrett PowerMax Direct Fit Turbocharger - VW MQBe GTI (Mk8)
Description:
Introducing the Garrett PowerMax™ turbocharger upgrade for the 2.0L EA888 Evo4 engine platform. Engineered by enthusiasts, for enthusiasts, this turbocharger upgrade isn't just about boosting your engine's capabilities, it's also about packaging it into your vehicle's existing OEM setup. This complete turbocharger with electronic actuator can help the engine produce up to an impressive 447BHP (333 kW), as proven by on-vehicle results.
GTX Gen II compressor aerodynamics increase turbocharger flow by a staggering 32% compared to the OEM turbo. Embrace the future of power with the high-temperature Mar-M alloy turbine wheel, paired with state-of-the-art turbine aerodynamics and a robust twin scroll stainless steel turbine housing capable of withstanding up to 1050°C of heat. Elevate your driving game, and experience performance like never before with PowerMax™.
Features:
Complete assembly with electronic actuator

Direct-fit turbo with 447BHP (333kW) capability (on-vehicle results)*

+32% compressor flow compared to the OEM turbo

Compressor Inducer: 47mm

Compressor Exducer: 60mm

GTX Gen II compressor aerodynamics

Mar-M alloy turbine wheel and twin scroll stainless steel turbine housing rated up to 1050° C

Latest generation of journal bearing rotating group with 360° reinforced thrust bearing
+50% turbine flow compared to OEM turbo

Turbine Inducer: 50mm

Turbine Exducer: 45mm
*Performance results of this product are highly dependent upon your vehicle's modifications and tuning/calibration. The horsepower numbers represented above are based on actual on-vehicle testing. 
WARNING: Maximum allowable turbocharger speed is 186krpm. The use of this product above max turbocharger speed is at the owner's risk, and can result in damage and premature failure. To protect the turbocharger from overspeed when operating, a speed sensor port is machined into the compressor housing for the fitment of speed sensor part numbers 781328-0003 (includes sensor and gauge), and 781328-0004 (includes speed sensor). Speed sensors sold separately by special request.
---
We Also Recommend
---