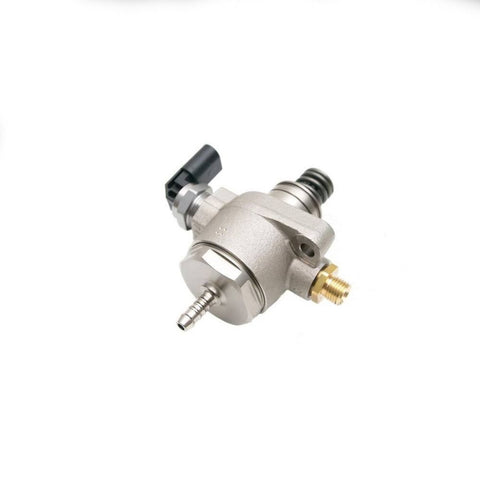 Genuine VW/Audi HPFP Housing - VW/Audi MQB 1.8T/2.0T
DESCRIPTION

High Pressure Fuel Pump
The High Pressure Fuel Pump (HPFP) is located on the right had side of the cylinder head. This mechanical pump is driven by a lobe that extends off the exhaust camshaft. The lobe has 4 mounds that move the internal piston of the HPFP to build extreme levels of fuel pressure, before sending to the Direct Injectors.
HPFP Coil Failure Symptoms
Reduced fuel efficiency
Reduced power output
Misfires
About Genuine VW Audi
The Volkswagen Group, also known as "VAG", consists of Volkswagen, Audi, Lamborghini, Bentley, Bugatti, Porsche, Ducati, MAN, Scania, SEAT, and Skoda. The original parts used by VAG to build your car are available as replacement parts under the "Genuine VAG" brand. Manufactured under the direction of VAG, expect excellent quality and a premium price since these parts are available exclusively through the VAG Dealership network.
You may not realize this, but the parts that make up your VAG are not necessarily manufactured by VAG. No cause for concern, as VAG designs the part, hires a manufacturer, and ensures its quality to you. In fact, many of these manufacturers have been making parts for VAG for decades. In our industry these manufacturers are called OEM (Original Equipment Manufacturers), and these are often brands you recognize, including Lemforder, ZF, Sachs, Bosch, Valeo, Zimmermann, Siemens VDO, Corteco, and more. Don't be surprised to open that Genuine VAG parts box and find an OEM branded part inside, simply with the addition of a VAG logo.
 Installation Video: EverythingCPO (IG: @go.fast.r)
---
We Also Recommend
---