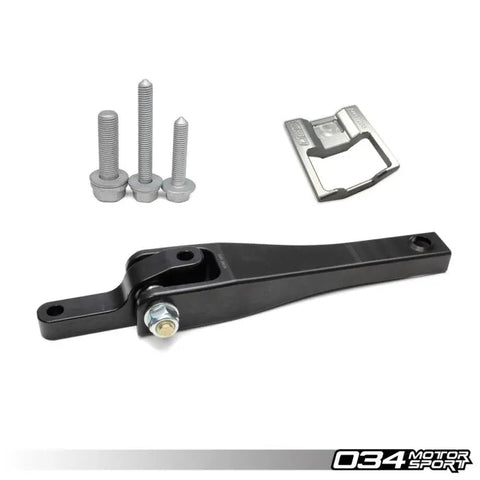 034Motorsport Billet Spherical Dogbone Mount (Manual/DSG-6) - VW/Audi MQB/e 1.8T/2.0T
034Motorsport's Billet Spherical Dogbone Mount with Billet Aluminum MQB Upper Dogbone Mount Insert (patent pending) for Volkswagen & Audi MQB and MQB EVO with Manual OR 6-Speed DSG is the new standard in performance and durability. This dogbone mount was engineered with performance in mind, manufactured from billet aluminum and stainless steel, and features a genuine Aurora Spherical Bearing to maintain proper articulation and reduce NVH transfer. The Billet Spherical Dogbone Mount is machined and assembled in-house, designed to eliminate the slop associated with the factory mount, and will better withstand the forces generated by hard launches.
The result is a locked-down drivetrain, crisper shifting, and virtually no wheel hop. The Motorsport Dogbone Mount will cause some increase in noise, vibration, and harshness (NVH) inside of the cabin.
Features:
Bolt-In Performance Upgrade for Factory Dogbone Mount
Includes Billet Aluminum MQB Upper Dogbone Mount Insert (patent pending)
Reduced Drivetrain Slop & Engine Movement Under Load
More Direct Power Transfer & Improved Shifting Feel
Increased Strength & Improved Durability vs. Factory Part
T6-6061 Billet Aluminum Body
303 Stainless Steel Spacers
Genuine Aurora Spherical Bearing Featuring Self-Lubricating Teflon Race Lining
Rebuildable Design
New Factory Stretch Bolts Included!
This Product Includes:
This Product Requires:
Fitment:
2015 - 2017 Audi A3/S3 (8V - MQB)
2016 - 2017 Audi TT/TTS (Mk3 - MQB)
2015 - 2020 Volkswagen Golf/GTI (Mk7 - MQB)
2022 - Present Volkswagen GTI (Mk8 - MQB EVO)
2015 - 2020 Volkswagen Golf R (Mk7 - MQB)
2022 - Present Volkswagen Golf R (Mk8 - MQB EVO)
Does not fit 7-speed DSG. Use 034-509-1039 instead.
Install Guide:
Warranty:
1 Year Limited Replacement Warranty (If you encounter any issues with our products outside of the warranty period, we will work with you to provide a resolution.)
Please Note: We recommend pairing this dogbone mount arm with our MQB Dogbone Mount Insert for the ultimate reduction in drivetrain slop.
---
We Also Recommend
---