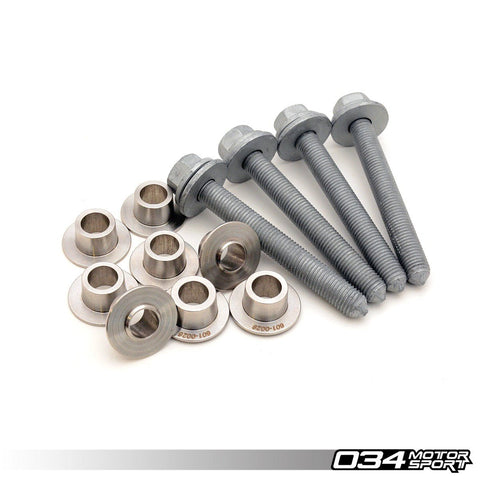 034Motorsport Stainless Steel Front Subframe Locking Collar Kit - MQB 1.8T/2.0T

034Motorsport's MQB Front Subframe Locking Collar Kit eliminates subframe shifting and precisely locates the front subframe on Volkswagen MkVII Golf/GTI/R models.

This kit includes 8 precision-machined stainless steel subframe locating collars and 4 new bolts, and can be installed in approximately one hour for a more rigid chassis and improved handling performance.


The upper and lower collars in our kit are specifically machined to locate the subframe and bolts perfectly and ensure hassle-free installation. The supplied bolts feature factory-correct tips and thread engagement points to prevent thread stripping. Unlike other kits on the market that use softer alloys, our Volkswagen MkVII Golf/GTI/R Subframe Locking Collars are made from stainless steel to prevent deformation and ensure a lifetime of performance.
Installation is very straightforward and can be performed in approximately one hour. No permanent modification to the subframe is required, and this upgrade is completely reversible.
FEATURES:
CNC-Machined Stainless Steel Locking Collars
Application-Specific Design for Both Upper & Lower Locking Collars
Engineered to Properly Locate (Center) Factory Front Subframe & Eliminate Shifting/Clunks
Includes New Factory Subframe Bolts
Improves Chassis Rigidity & Handling Performance
Addresses Volkswagen Subframe Knocking Noise Permanently!
Will Not Cause Additional NVH Transfer Inside Cabin
Easy, Straightforward Installation Takes Approximately 1 Hour!
WHAT'S INCLUDED:
034Motorsport Stainless Steel Upper Subframe Locking Collars (Set of 4)
034Motorsport Stainless Steel Lower Subframe Locking Collars (Set of 4)
Factory Replacement Subframe Bolts (Set of 4)
INSTALLATION INSTRUCTIONS:
FITMENT:
2015 - Present Volkswagen MkVII Golf/GTI
2015 - 2016 Volkswagen MkVII Golf R
---
We Also Recommend
---